SCORPIO/P
SUPER SCORPIO/P
Folding straw-chopper
HP 100-180/160-220 KW 74-132/118-162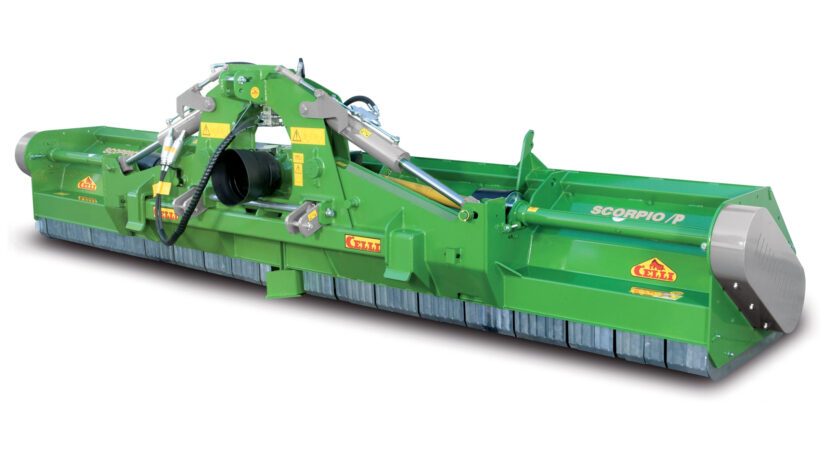 SCORPIO/P Technical specifications and standard equipment
From mod 400 to mod 500
Maximum horsepower: 180 HP (132 KW)
PTO: 1-Speed for 1,000 rpm: 1920 rpm
4+4 belt drive
Cat.2 swinging lower hitches
Rams for machine lifting with safety hooks
Fixed front counter-blades
Removable and replaceable upper counter-blades
Double shielded box frames made of very thick steel sheets
Central gearbox with freewheel safety device
Thick rear doors that can be opened for maintenance operations
Rotors (pipe Ø 194 mm) with 10 mm Y blades (Ø 620 mm)
Well protected rotor supports
Rollers or wheels
Resting feet
Front conveyor
Drive shaft without safety device
Rear lights for road transport
Side safety guards
SUPER SCORPIO/P Technical specifications and standard equipment
Mod 560 and mod 640
Maximum horsepower: 220 HP (162 KW)
PTO: 1-Speed for 1,000 rpm: 1920 rpm
5+5 belt drive
3rd category swinging lower hitches
Rams for machine lifting with safety hooks
Fixed front counter-blades
Removable and replaceable upper counter-blades
Double shielded box frames made of very thick steel sheets
Central gearbox with freewheel safety device
Thick rear doors that can be opened for inspection
Rotors (pipe Ø 245 mm) with 10 mm Y blades (1) (Ø 675 mm)
Well protected rotor supports
Rollers or wheels
Resting feet
Front conveyor
Drive shafts without safety devices
Rear lights for road transport
Side safety guards
SCORPIO/P Optional accessories
Tools for rotor: 3 blades ( 2 Y shaped blades + 1 with straight blade) (3)
Tools for rotor: Y shaped blades with central ventilation fin (8)
Tools for rotor: hammer 1.6 kg (6)
Tools for rotor: blade for defoliation: L=100 mm (9)
Tools for rotor: L shaped blades 10 mm thick (4)
Rear rollers Ø 219 mm
2 Self-steering rear wheels (mod.400)
4 Self-steering rear wheels (mod.450 -500)
Grass cutter disk kit (2 blades) (with roller only)
Kit for larger side skids
Tools (1), (3), (4), (6), (8), (9)
SUPER SCORPIO/P Optional accessories
Tools for rotor: 3 blades ( 2 Y shaped blades + 1 with straight blade) (3)
Tools for rotor: Y shaped blades with central ventilation fin (8)
Tools for rotor: hammer 1.6 kg (6)
Tools for rotor: blade for defoliation: L=100 mm (9)
Tools for rotor: L shaped blades 10 mm thick (4)
Rear rollers Ø 273 mm
4 Self-steering rear wheels
Grass cutter disk kit (2 blades) (with roller only)
Kit for larger side skids
Tools (1), (3), (4), (6), (8), (9)
SCORPIO/P
Suitable for: straw, corn stalks, soy, grass, beet leaves, set-aside areas (6 cm diameter) HP 100-180 KW 74-132

SUPER SCORPIO/P
Suitable for straw, corn stalks, soy, grass, beet leaves, HP 160/220 118/162 set-aside areas (6 cm diameter) HP 160-220 KW 118-162

Ideal for:
Working with large tractors
·
Working with tractors above 190 HP
·
Mulching grass and shoots
·
Mulching shoots and cutting wood
·
Mulching stalks and plant residue
·
Cutting grass
·
Carrying equipment on the roads without risks
·
Information request
Enter your data to receive information on this product
Log In
If you have already completed the registration phase, to download this and other technical data sheets
Log In
Register
Registration is reserved for operators in the sector and allows full access to all our product datasheets.
Register
Are you a reseller?
Access reserved area for authorized dealers and resellers.
Dealer area
This site is registered on Toolset.com as a development site.

Tecnici (necessari)