NEW TAURUS/S
Fixed mulcher
HP 65-120 KW 48-88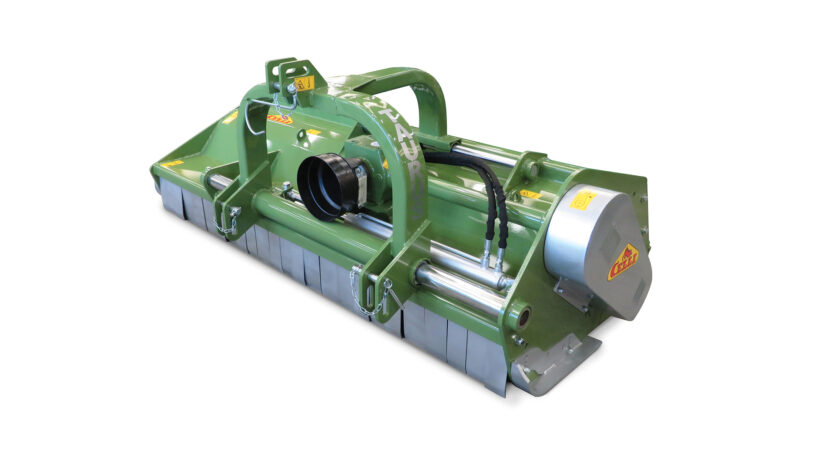 Technical specifications and standard equipment
Maximum horsepower: 120 HP (88 KW)
PTO: 1-Speed for 540 rpm: 2550 rpm
5 belt transmission
High clearance intake (30 cm)
Hydraulic side-shifting (600 mm) on two chromium-plated rods
Upper and rear fixed counter-blades
Rear roller Ø 220 mm
Gearbox with freewheel safety device
Rotor (pipe Ø 220 mm) with flat hammers (1.25 kg)
Flap safety guards
Side skids
3-point hitch with 2nd category pins
Double shielded box frame made of very thick steel sheet
Drive shaft without safety device
Optional accessories
Pair of rubber self-steering rear wheels
Double chains (only at origin)
1000 rpm PTO
Tools for rotor: Y-shaped blades
Suitable for grass, branches and wood (Ø 15 cm)
Ideal for:
Working with medium sized tractors
·
Mulching grass and shoots
·
Mulching grass and shoots in vineyards and crop residue
·
Mulching shoots and cutting wood
·
Cutting grass
·
Cutting grass on slopes
·
Carrying equipment on the roads without risks
·
Information request
Enter your data to receive information on this product
Log In
If you have already completed the registration phase, to download this and other technical data sheets
Log In
Register
Registration is reserved for operators in the sector and allows full access to all our product datasheets.
Register
Are you a reseller?
Access reserved area for authorized dealers and resellers.
Dealer area
This site is registered on Toolset.com as a development site.

Tecnici (necessari)