DE SERRA
Fixed rotary tiller
HP 40-80 KW 29-59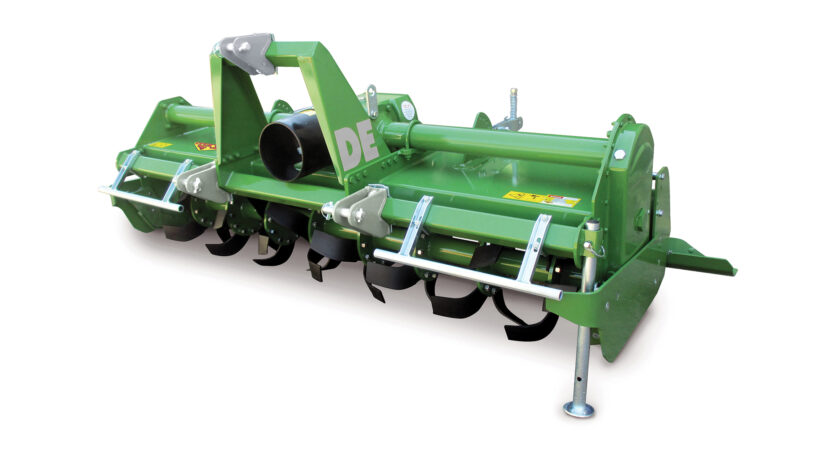 Technical specifications and standard equipment
Maximum Horsepower: 80 HP (59 KW)
PTO: 540 rpm with 4-speed gearbox No. of teeth: 19-16 = 176; 18-17 = 197 rpm; No. of teeth: 17-18 = 221 rpm; 16-19 = 248 rpm;
Side gear drive
C-shaped blades: 80×7 mm (6 blades each flange, blade sides leaning outwards)
Max. working depth 24 cm
Side safety guards
Tailgate adjustment by springs
Resting foot
Drive shaft with clutch safety device
Safety devices
Folding wings
Optional accessories
C-shaped blades
Side blades leaning outwards
Pair of front wheels
Counter-flanges (one kit each flange)
Ideal for:
Working with small tractors
·
Working with medium sized tractors
·
Working soil in depth
·
Preparing seedbeds
·
Eliminating soil compacting
·
Burying abundant crop residue
·
Getting the right degree of soil finishing according to specific needs
·
Carrying equipment on the roads without risks
·
Working in greenhouse
·
Information request
Enter your data to receive information on this product
Log In
If you have already completed the registration phase, to download this and other technical data sheets
Log In
Register
Registration is reserved for operators in the sector and allows full access to all our product datasheets.
Register
Are you a reseller?
Access reserved area for authorized dealers and resellers.
Dealer area
This site is registered on Toolset.com as a development site.

Tecnici (necessari)