In our opinion our booth was the most coloured, the brightest … in other words the smartest !!!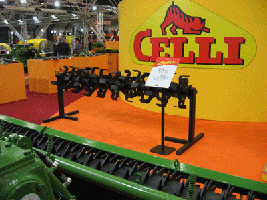 !! not to mention the technical novelties we have introduced: FORMULA 190
Rotary tiller having adjustable clearance
190 HP max.
Working widths from 255 to 305 cm.
Rotorshaft with QUICK RELEASE BLADES SYSTEM
THESE TWO TECHNICAL FEATURES ARE UNDER PATENT.
!!! and also some mulchers to complete our range:
TTS Multi-purpose, side shift mulcher with  DUAL LINKAGE
(front and rear fitting) 100 HP max.
Working widths from 220 to 300 cm.
TX/S Multi-purpose side-shift mulcher (the fixed version
mod. TX/F will be available soon)
70 HP max. Working widths from 160 to 200 cm.
On mulchers mod. TX it is possible to fit, on request, a rotorshaft "PLUS" having a higher number of tools than the standard.
!!! and at the end the "large" Celli Staff (Boss included) present at the Show to receive the even larger number of visitors !!!
See you all at the EIMA 2008 !!!